Looking for more coverage? Here are other online advertising opportunities...
Yahoo! Display Advertising - Great opportunity for more business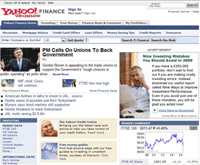 Yahoo! Finance homepage
Yahoo! have the biggest share on the market in display - also called content - advertising
. This is due to their partnership with hundreds of premier content providers in products such as Yahoo! Sports, Yahoo! Finance, Yahoo! Music, Yahoo! Movies, Yahoo! News, Yahoo! Answers and Yahoo! Games.
Similar to Google, Yahoo! also provides a personalization service, My Yahoo!, which enables users to collect their favorite Yahoo! features, content feeds and information into a single page.
With such large coverage in content network and the huge volume of traffic Yahoo! gets every day, the company implements highly advanced analytics that enhance the control over display advertising for advertisers. This means that Yahoo! system enables the advertisers to target specific audience. The segment can be refined by gender, age, interests etc.
Yahoo! also implements a tracking system which enables tracking results of display advertising campaigns but also enables the advertiser to optimize their campaigns throughout its duration.
If you would like to find out more about advertising with Yahoo! contact us for FREE advice on 020 7127 5309 or email on Info@MarketingResolutions.com.



---

Microsoft - Bing

Do not miss a single opportunity for more business!
Microsoft recently rebranded their Live Search to www.bing.com
which earned a lot of publicity. The new homepage is a lot more simple, with one main search box and image, news, video and shopping search options. There is only one background image now that changes every day (see example below). The idea is that it will bring visitors back to the site every day.
Microsoft have been putting a lot of work and money into promoting their paid advertising - Microsoft Ad Center. They have a team in Liverpool dedicated to Microsoft Ad Center and customer support who work hard to help their clients to promot their business. We have been working with Microsoft Ad Center team for a long time so are always up to speed with their latest developments which benefits our clients hugely.
Once you start looking into Microsoft Ad Center you will find that many of their tools are based on Google AdWords tools. This is a real benefit as most advertisers know Google AdWords really well so this speeds up the learning process.
You can now also upload your Google AdWords account to Microsoft system without having to adjust the exported AdWords account,
a recent development that puts us at the forefront in helping our clients.
If you would like more free information about advertising on Microsoft please contact us on 020 7127 5309 or email on Info@MarketingResolutions.com.